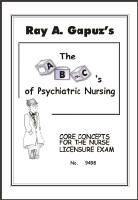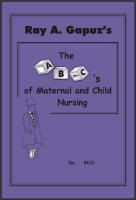 I got hold of R.A Gapuz' book ABCs of Psychiatric Nursing last semester. And I can affirm that this book really helped with remembering and dissecting the important facts about psychiatric nursing. I liked the format of the book because, it was concise. It did away with the long paragraphs and difficult to remember medical terms. I read it in one day and recommended it to my classmates. We learned a lot from this book. Aside from the concise facts presented, there are questions that follow. The book presented CBQ (Common Board Questions) and answers, as well as their rationales. Every quiz or exam, my classmates and I would take turns asking each other questions from the book. Know what, we did well in Psych.

I'm not saying you will pass just by reading this book. It's just that, it helped us remember the most important things and all we had to do was supplement our readings with other books. I'm sure, it will do that for you too.

R.A. Gapuz' other book,The ABC's of Maternal and Child Nursing is another book I purchased a few days ago, and again, it is concise and straight to the point. The most basic and important things are spelled out here. All I have to do is to back up my readings with another book to further expand my knowledge on the topics discussed.

You can see his other books in the official website of the review center where you can also purchase his other books.