We were supposed to have our duty yesterday at the Geriatric Unit in one hospital here in Manila. Let me just say that I was in no mood for a duty since my day started bad yesterday. Our first exams this prelims... I think I blew it.
Furthermore, I was not feeling well. Fortunately, God was (always) kind to me. Our C.I. told us to go home! Of course, being the optimist that I am, smiled all the way to the exit.



It was time to party. Or should I say, make lakwatsa. I was invited by Vanessa to go the nearest SM. I was thinking I'd buy myself jeans or something I badly needed. Like a bean bag. Some of my other groupmates came too... So, hurrah hurrah...

When we got to the mall, we went to the different boutiques. I fancied lots of clothes. But just by looking at them, I know it wouldn't fit. How come clothes are made in so tiny sizes? It's like everyone can actually wear them?!?! I think what would be best is for them to just sell clothes that are, well, body friendly. Not those that will hug my body and my BILBIL.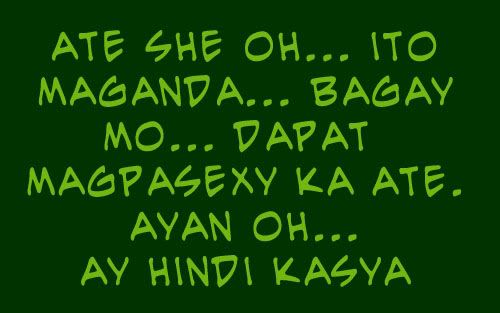 I didn't try on the clothes. First, because I was in uniform and I had a lot of things to remove before I can try it. My stockings, my camisole, my... you don't want to know. Second, I didn't want to look like a fool. And third, I do not want to sweat it out in the fitting room... Struggling to insert the clothes in my extremities.

I told my groupmates to find jeans that would fit me.

I'm telling you, if there's one thing I hate about shopping for jeans, it must be the long hours just walking around finding a pair that would fit me.

And it's so frustrating to try on jeans that fit perfectly on the hips but are too wide when it comes to the legs. Or those that fit my achingly large thighs and then a waist line that can actually emphasize my love handles and make me look like a number of piled up salbabida. Maybe the whole clothing apparel world is against me...

Or maybe I just eat too much...

Then we saw a shop with all these bra and panties... Nice ones. Colorful ones. Padded ones. Sexy ones. I don't think that would fit either.

So off we went to the rest of the shops... Shoe shops. Furniture shops. Accessory shops.

No more clothing shops.

[Note : My groupmates told me we saw a celebrity (someone who immitates Ate Guy yata) yesterday. We did?]

So much for an instant shopping spree from duty... So what I did was, I treated (is that a correct term for the past tense of treat?)... Hmm.. wait... Nilibre ko ang mga groupmates ko ng meryenda. Deal with it people. I ain't an English guru.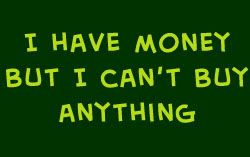 Anyway, I did buy something. I bought 2 shorts. Yes, short shorts. Which, FYI will only be visible inside my apartment and nowhere else. I do not plan to send people screaming and running to their homes just by the sight of me wearing that.