Disclaimer : This interview is pure fiction. While the blogger maintains her sanity, it is but wise to inform her readers that imagination can actually be so vivid, you think you're really talking to Superman...
Superman: Hello She! I came all the way here from the US of A. It was nice of you to interview me. I came here faster than a speeding bullet. Jumped tall buildings and managed to keep my undies intact.
She: [Tulala]
Superman: Oh! And you've got one nice blog here about underwears huh? You must be into them so much, you'd rather get criticized than to maintain your 'good' image.
She: He-he-he... Haaa- Hhhhaaallloooo Superman. How are you? Me, I'm fine thank you. Can we get on with the interview?
Superman: Sure! Manicure...
She: He-he... Uhm... so Superman, where did your costume come from? Is it true that it came from your planet?
Superman: Ah yes, I've always been asked that. My costume was actually designed by my mother here on earth from the blankets I've been wrapped with when they saw me.
She: Wow! You must have been covered with so much spandex blanket.
Superman: Oo naman.
She: You know Tagalog?!?!?!?


Superman: Siyempre. I am but a super hero.

She: Errrr.... So, technically, your costume is from Krypton? Is that washer-safe? Nagfe-fade din ba yan?

Superman: Hindi. Super safe to. Washing machine safe. Even dishwasher safe. Hindi to nagfe-fade gaya ng mga t-shirt na nabibili sa Baclaran.

She: You went to Baclaran na?

Superman: She, when you can fly, you can't resist the urge to go to places. I've been to Zimbabwe, Uganda, been to London to visit the Queen. Baclaran pa kaya. Which reminds me... They sold me this piece of wood there saying I will be invincible. They sold it to me for four hundred pesos. But the only money I bought was the 5 peso bill which had Manny Pacquiao's image. They wanted to beat me up.

She: Wow.

Superman: Wow your face.

She: Err.. So, what's with the red trunk on top of your costume?

Superman: Actually, when I was small, I didn't have this red trunks. But as I grew older and something grew prominently, I had to cover it up! You know how censorship is nowadays!

She: Uhm... so you had to wear red trunks to... *ubo! ubo!* cover up your features?

Superman: Technically, yes. But it also allowed me not to look like a foolish ballerina in blue spandex. Kung wala yung trunks ko, walang superman. Kung wala yung cape ko, walang superman.

She: Er... speaking about your cape... Why do you need a cape? And why do you have to stretch out your arms when flying?

Superman: She! Para namang wala kang alam sa pelikula. Syempre, pa-epek yan! Kung naka-straight lang ako, tingin mo, magandang tignan? Tingin mo, mabibilib sa akin si Lois. Syempre hindi! Yung cape ko, pang-cover yan pag tinatagusan ako.

She: Tinatagusan ka!??!?!

Superman: Oo kung minsan, kasi nagXe-Xenical ako. I have to maintain this body for God's sake! What I refered to as tagos is tagos ng oil galing sa alam mo na. Ganyan talaga epekto ng Xenical eh.

She: Oh I see.. akala ko.. mens...

Superman: Sobra ka naman...

She: Superman, pano kung naiihi ka? Pano ka umiihi pag nakasuot ang costume mo?

Superman: She, superman ito! Bago mo pang makitang umiihi ako, tapos na ako! I am faster than a speeding bullet ok!

She: Akala ko kasi may outlet ka. Dalawa. One for your one. And one for your other one. The one behind.

Superman: Talagang careful ka sa words ha. No, mali ka. Hinuhubad ko ito She pag naiihi na ako.

She: Eh pano kung nasira yang isang costume mo? May iba ka pa bang costume to replace it?

Superman: This costume is indestructible...

She: Pero sa komiks, punit-punit ang costume mo.

Superman: Costume double lang yun.

She: So on with the interview... Is it true that your *ahem* *ubo* was digitally manipulated to lessen the 'bulge'?

Superman: Yes that is true. Pag hindi na reduce yun She, yang mga pouch na nasa blog mo, yan na lang ang ipapasuot sa akin. Magmumukha akong impersonator na macho dancer. [Superman bumulong kay She] Tingin mo, bagay kaya yung Rooster Pouch sa akin? Kung nakita ng mga nagre-review ng movie ko ang bulge eh sigurado ako, gagawing R-18 ang superman dahil lang dun.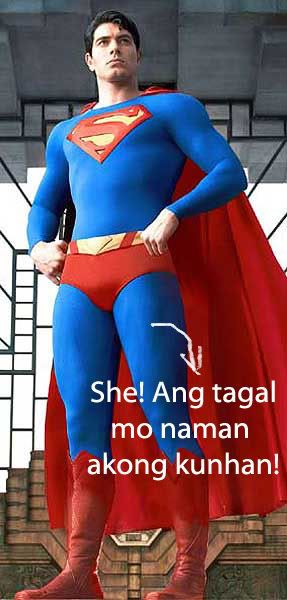 She: Er.. I think let's stick to your red trunks. Which reminds me, does your underwear really have super powers?

Superman: Talagang mahilig ka sa underwear! Yes, it is indestructible! Kahit na sipain mo, hindi ako masasaktan. Kahit na tadtarin ang trunks ko ng bala! Kahit na tawagin mo pa si Pacquiao. I am Superman, She! Kahit na patayin niyo ako sa comic books, babalik at babalik pa rin ako. You see, my underwear, like any part of my costume, has super powers. So, I will never feel pain when I get kicked here (points at his *ahem*)

She: (blush) Errr... even if I do this?




Superman: Yes She, even if you do that.

She: Wow... So, how do you find the Philippines so far?

Superman: It's great! But the weather... it's bad. May bagyo pala! Dapat alerto ako sa mga lumilipad na yero. Filipinas are beautiful. Filipino men are, well... I am more handsome. And you have great food. You're traffic jams are interesting. Pag nakikita ko sa taas, parang mga langgam na walang patutunguhan ang mga sasakyan.



She: Ano ng natikman mo?

Superman: Isaw.

She: Wow that's delicious. Do you know what's that?

Superman: The manong told me it's soft hotdog.

She: That's chicken's intestines.

Superman: *vomits*

She: So Superman, what can we expect from you in the future?

Superman: First, I will never eat isaw again. Then, dadaigan ko si Manny Pacquiao sa mga endorsement ng products. Pansin ko lagi siyang lumalabas sa TV, sa mga commercial... Daig niya pa si Angelica Panganiban. Speaking of Angelica Panganiban, she is beautiful ei?