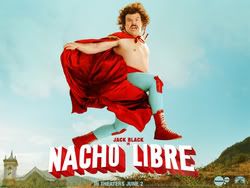 Just watched Nacho Libre yesterday. I needed a brief pause from my redundant life. I needed someone to make me laugh. I needed to watch the movie :)
I won't discuss what the movie is about. I know other bloggers will be blogging about that. I would just like to share you some quotes from the movie.
Nacho: I'm a little concerned right now. About... your salvation and stuff. How come you have not been baptized?
Esqueleto: Because I never got around to it ok? I dunno why you always have to be judging me because I only believe in science.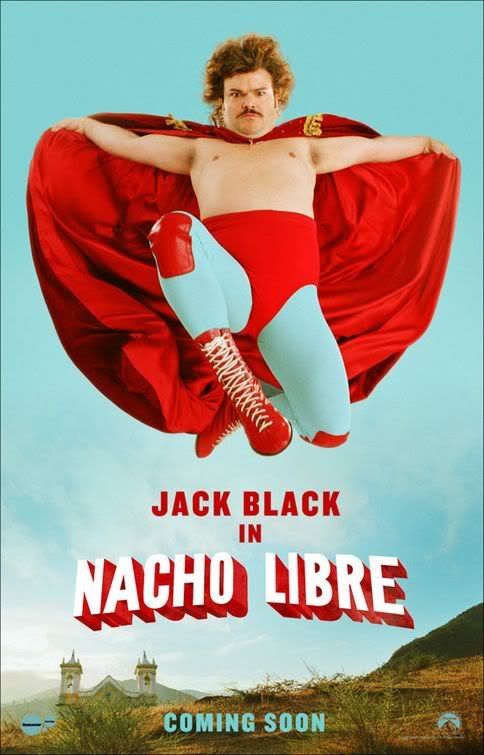 Senor Ramon: What is this?
Nacho: Leftovers. Enjoy.
Senor Ramon: There is no flavor. There are no spices. Where are the chips?
Nacho: Somebody stole them.
Senor Ramon: Did you not tell them that they were the Lord's chips?
Nacho: I was trying to!
Senor Ramon: You are useless Ignacio!
Elderly Monk: Silence brothers! This is the worst lunch I ever had.
Senor Ramon: Your only job is to cook. Do you not realize I have had diarrhea since Easters?
Nacho: Ok... Maybe I am not meant for these duties. Cooking duty. Dead guy duty. Maybe it's time for me to get a better duty!
Esqueleto: For reals?
Sister Encarnacion: Well, my favorite color is light tan. My favourite animal is puppies.
I like serving the lord. Hiking, play volleyball...
Nacho: You gotta be kidding me. Everything you just said, is MY favourite thing to do, every day!
What really made me laugh was the scene where Nacho crept behind Esqueleto to pounce on him. But before Nacho can jump, he gave out a huge, noisy fart wakokoko... I like him, he is related to the sayote blog wakokoko...
Anyway another scene that really cracked me up is the note scene where he wrote to Sister Encarnacion. At the end of the letter, he wrote x x o o X O X o X x I think.. The small x represents a small kiss and the big X represents a big one. The O represents a hug. So the small o is a small hug. Ang the big O, a big hug. :)
If you want to have a good laugh (I think everyone needs one), this movie is recommended :)
I would also like to thank all those who visited my blog... For those who left their comments...
Thank you :) You guys make my day :) x x O O x x :)