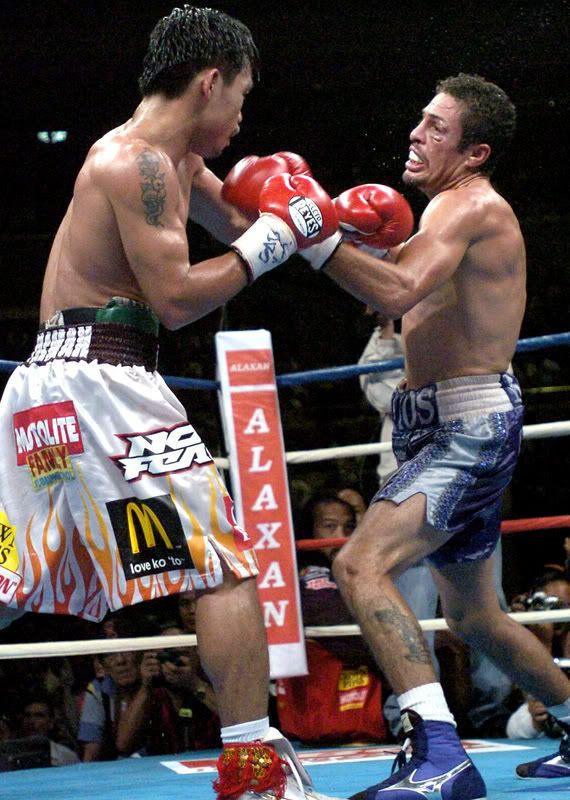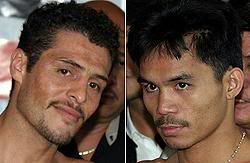 In case you're from another planet, Pacquiao was victorious over the Mano-A-Mano fight with Larios. Another victory for Manny Pacquiao. And for the Filipino people.
I watched the repeat telecast of the fight last night in Solar Sports after a brief documentary about the Philippine boxing scene entitled GLORY ROAD.

I would like to say, just by looking at Larios, I know he's a nice guy. Boxers rarely smile while entering the ring, or if they do, once... twice... But this Larios guy... I like him.

Moving on...

I have a confession to make, I didn't finish watching the fight. I was too exhausted to last the 12 rounds. And I already knew that he won. After my TCAP seminar yesterday, I knew people were watching the fight. I knew that because there weren't many people outside when I went home. This sounds normal to many of you, but here, it's rare that people are inside their homes. Believe me.

And in our seminar, my seatmates were talking about the fight and how much they had on Pacman. Some of my classmates even invited me to watch in their house with a couple of beers. I politely refused. I don't drink. :P

This morning, I went to the official website of PACMAN. And in the forums, I was surprised to read some of the comments there. Some were criticizing Manny for not giving his best. Of course, for me, how can I guy win if he didn't give it his all? I can't even imagine myself lasting for 1 round in a boxing ring. And then these guys are disappointed with the fight. Tsk! Tsk! Some Pinoys talaga.

Kudos also to Larios for being strong and courageous all the way. I feel pity for him. I mean, he looks like a nice guy. And he was an excellent fighter. Even after the cuts and bruises he sustained, he still fought up to the 12th round. Commentators of the fight openly affirmed that Larios was a nice guy and he was down-to-earth. The two boxers, undoubtedly, showed great respect for each other; knowing that these two boxers had the same rags-to-riches story.

You should have seen the countless celebrities and political figures in the fight. Chavit was there, Mega, Senators Bong Revilla, Jinggoy Estrada, Pangilinan were there and much more. Even Jericho Rosales who plays Manny in a new film showcasing his life. Of course, heart was there. Ruffa was also there. This guy... Manny... he calls the shots ei?

I'm sure many Filipinos are idolizing Manny for his achievements. The classic rags to riches story of Manny Pacquiao is a winner and it relates to many Filipinos who are striving to uplift their lives. Manny, for me is the personification of hope and integrity inside a Pinoy. And Larios is the personification of courage and determination.

Pa-pa-pa-pacquaio. Love ko to.